So, you've considered exploring the beautiful island of Tenerife. No matter if you're traveling alone or with a huge family, there's always something to see and be amazed by.
Today we've prepared a quick guide telling you what to see and what to do in Tenerife: this guide will tell you everything about the top 5 places you should visit next time you're on the island.
1. Siam Park
Siam Park is the best water park in the world according to TripAdvisor. The water park has something to offer both for kids and for adults: it's called "The Water Kingdom" not without a reason!
Siam Park has fascinating rides (have you heard about the tallest water slide in the world called "The Tower of Power?" It's located here!), friendly support staff, great food, and great prices. A ticket to the water park starts from 30 EUR, twin tickets (tickets for two people) cost a little less, Canarian residents can enjoy the park almost free of charge (prices start from 15 EUR), and annual access passes are also available. Grab your tickets today!
Make sure to visit our office to get a discount to visit the water park – Siam Park is located in Costa Adeje in the south of Tenerife providing a mix of fun, excitement and adrenaline. The entrance price also includes sunbeds and umbrellas, so make sure to enquire or visit us at the office if you're planning to visit.
2. Loro Parque
Loro Park is situated in Puerto de la Cruz, and this world-famous park is one of the most frequented attractions across the whole Canary Islands. The park lets you visit the largest collection of parrots in the world, explore the Antarctica at Planet Penguin, take a seat in the Orca Ocean, or watch the strength and agility of the magnificent killer whales. Enjoy the acrobatics of the dolphins or the hilarious antics of the sea lions!
Loro Parque houses over 20,000 species – it's home to both extraordinary memories and unforgettable experiences.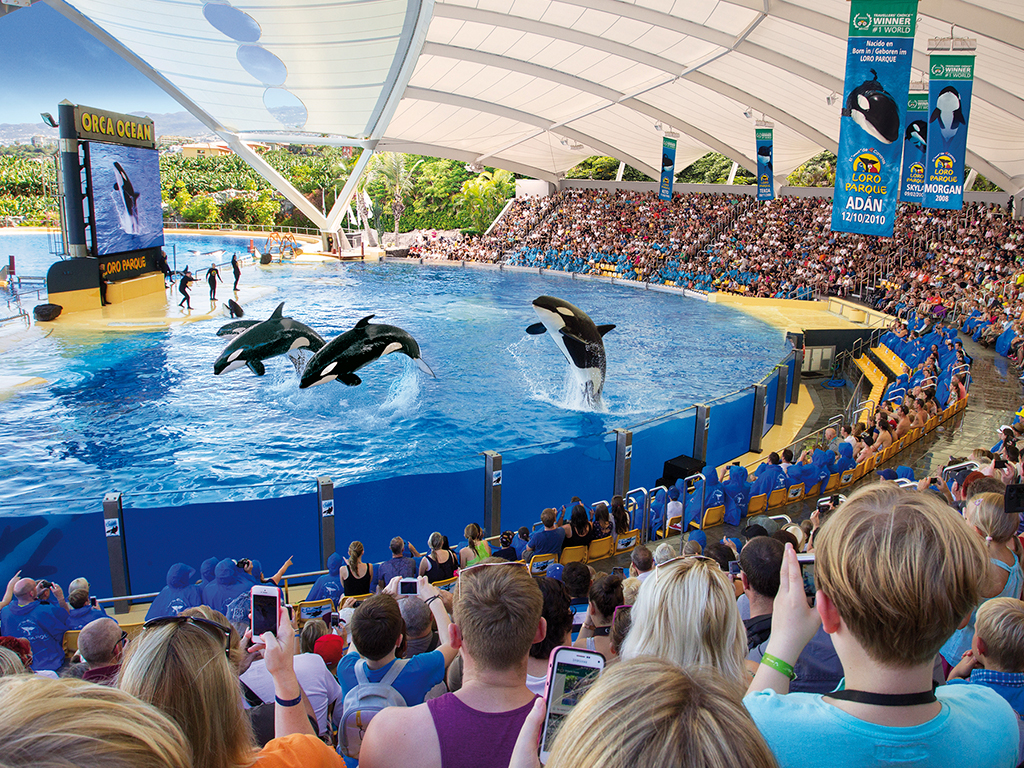 Visit us at our office and we'll tell you more about this amazing place, or contact us today to book your trip!
3. The Dolphin Trip
"I have been to Tenerife", – we hear you saying. But have you been to see the dolphins already? No? You're missing out big time!
The dolphin trip is one of the most sought adventures across the whole island. Make sure to contact us and book your trip today!
Make sure to visit our office and book your dolphin trip today – you will not regret it!
4. Sunset and Stars
Are you into stargazing? Then our Sunset and Stars trip is perfect for you! This 5-hour long stargazing trip allows you to experience stars and planets through our 12″ Telescope so you can see the amazing views of the stars and the milkyway. What are you waiting for? Contact us and book your trip today!
5. Submarine Safari
This trip of ours allows you to explore the world with a submarine. This trip allows you to experience a real submarine which will take you 30m below the unexplored waters of Tenerife. Contact us and book your excursion today! Alternatively, you can also visit us at our office.
We hope that this blog has provided you some insight in regards to the things you should see on the island. Contact us to book any of the aforementioned excursions or pay a visit to our office and we'll help you get started!